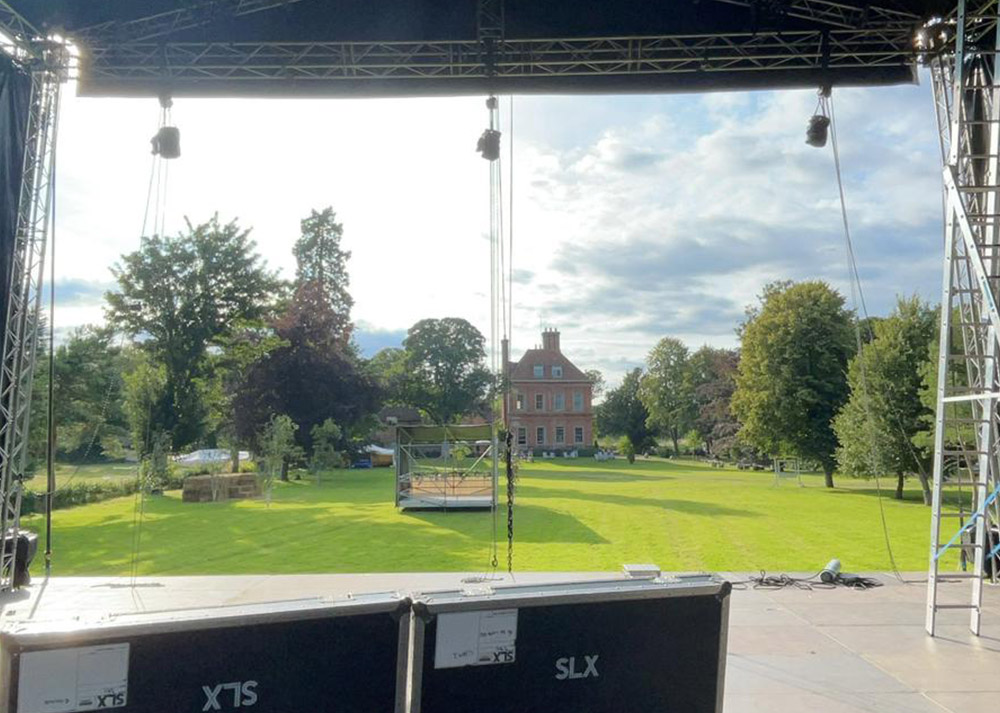 Our Approach
Project manager Dan George led this project from concept to delivery alongside Sam Worthy as lighting designer. Together we helped the Pig Hotel to realise their ambition to host Jools Holland and his 22-piece Rhythm and Blues Orchestra. We provided the lighting and stage design for Jools Holland and the band as well as the set up services and power. To do this, we had to strike a fine balance between the needs of the event – in particular, the band – and the space we had available.
As part of the stage design, we innovated a bridge that arched over a hedge that would have blocked access to the stage. This bridge gave the band safe and easy access to their equipment, making on-stage set up simple and safe. We controlled our lighting design with a new ChamSys desk, providing perfect outdoor lighting for atmosphere and energy at this relaxed, feel-good summer event.
Dan and the team from SLX have helped maintain high level of production for our boutique festivals and they are a great bunch to have on site.  We would highly recommend working with SLX.

Smoked and Uncut
The Results
The Pig Hotel's Smoked and Uncut music and food festival was another hit and a much-needed night of music, food, and dancing after the difficult year before. For the upcoming festival in 2022, we'll continue to use the ChamSys desk to realise our lighting designs, and we're happy to have successfully delivered the brief within the restrictions of the venue. We are confident that the next touring Smoked and Uncut events in summer 2022, which are hosting Jools Holland once again along with Earth Wind and Fire in Kent, Brockenhurst, and Bath, will be as great a success as this year's event.